About Alec Findlay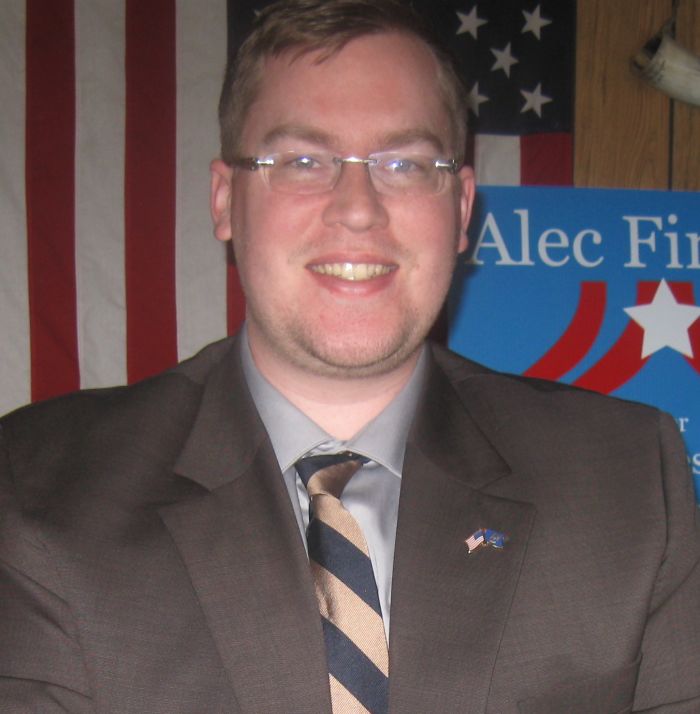 Alec's Early Days:
Alec Findlay was born in Ann Arbor Michigan on February 21, 1993 to parents, John and Marjorie Findlay. His family also consists of his older sister, Allison.
Alec was raised by parents who grew up in the 1950-70s and they instilled in him a great sense of respect and duty to our nation and its citizens. Both of his parents worked as social workers for the State of Michigan. Both worked for Child Protective Services in Alec's early days. With Alec, the new infant at home, Marjorie stayed at home to raise her two young kids. Without access to other child care services and a longer parental leave program Marjorie was forced to leave her job at the State of Michigan and the possibility of a comfy state pension.
Alec grew up in a 100+ year old farmhouse on the outskirts of Okemos and Mason. Without many neighbors and parks nearby he created his own fun. He would spend hours playing "Army" with his plastic toy soldiers reenacting some of the most important battles of World War 1 and 2.
His interest in soldiers transformed into an interest of how he could make a positive difference in his community. He became involved in 4-H, Cub Scouts, and Boy Scouts. He worked his way up the ranks of the Scouting ladder to eventually reach Eagle Scout at age 13. Throughout his early days his family and the various groups he was a member of inspired him to work hard and to make the most out of opportunities.
John Findlay stayed on in his position at the State until the early 2000s when he retired. After his retirement John became politically involved. He ran for Ingham County Commissioner and then ran for State Senator as a Republican. He lost both of those elections. Although his run for State Senate saw him lose his primary by only one vote. Seeing his father run for political office was Alec's first real experience with electoral politics. Alec would pal around with his father and helped him knock doors convincing voters to vote for John because "He was the best dad ever"! This was the first time Alec became interested and involved politically.
From that day forward Alec started to learn more about the political issues our country was facing. Alec states, "At that point I was practically clueless as to what politicians did or how America's political system worked, I wanted to learn more, especially after being excited about my father's campaigns. I looked for the answers to my questions on the daily news". Alec would come home from school, break out his homework and began to watch Fox News in the background for hours on end. "Glenn Beck's 5pm show on Fox was my favorite show at the time and I thought very highly of other conservative pundits, namely Bill O'Reilly, Sean Hannity, and Rush Limbaugh". Throughout high school Alec became molded by the Fox News Network and labeled himself a staunch conservative his junior year. "I really related to what the pundits were saying on the network, the various shows I watched endlessly pushed a selfish and fearful narrative. I truly believed government was out to get me and my family's hard-earned money. I was truly fearful of change and what it meant for me and my country. Living in such a rural area it was hard to experience different people, viewpoints, or ideas so naturally I became entrenched in a politically conservative mindset that I perceived was the truth and the one and only answer to the nations woes".
In attending Okemos High School, Alec came into contact with varying opinions, thoughts, and political stripes. "My high school days were typically full of my more liberal friends and I bickering over the politics of the day. I was the stereotypical conservative student being lambasted for having politically incorrect views. It took me a number of years to realize that many of the views I held weren't just politically incorrect, but were just flat out wrong. People who know this story about me tend to ask when did I make the switch from a staunch conservative to a pragmatic progressive? I'll admit there's no one experience or period of time that I can definitely say changed my political views. This internal change occurred over a number of years and involved quite a bit of learning, personal reflection, and out of my comfort zone experiences".
Alec was beginning to change his political leanings as he was leaving high school and entering Michigan State University.
Alec's College Days:
Alec went on to pursue a Bachelors degree in Political Science at Michigan State University where he graduated in December of 2017. During his student career at MSU he participated in Army ROTC for four years. The Spartan Battalion only reinforced the sense of duty Alec felt he had to the State of Michigan and its inhabitants. He also was elected to Associated Students of Michigan State University General Assembly for two years and sat on a multitude of committees directing and influencing policy at the University.
His experiences at MSU helped to enrich his life through the various people, ideas, and groups he interacted with. Alec's political leanings were shifting as he progressed through his collegiate career. "I made a conscious and sustained effort to experience new ideas, new people, new foods, new cultures, different groups, and expand my friend group during college. I firmly believe by convincing myself that life shouldn't be lived in a bubble, I was able to change and begin to find myself. I began to view the Republican-led Congress as inept and a Congress full of No-bodies. Whenever Democrats and President Obama tried to enact change to help reset our national economy the Republicans would vote NO, not because the proposed policies were bad, but just because most of them couldn't stand to side with President Obama. When the Stimulus Bill and ACA (Affordable Care Act) were being debated and ultimately passed, I celebrated. I was absolutely thrilled that our government was at least trying to fix the most pervasive issues of the day". The early years of President Obama's administration really hammered home the belief that Democrats were the party of doing something, not the Republicans. "As a man of action, I couldn't stand to see my once revered political idols standing around stating that in such a turbulent time our country should do absolutely nothing to fix its' problems! It really infuriated me, I truly couldn't understand why the GOP that I once loved was not responding to problems and offering up solutions to help every-day Americans. It was the final straw for me".
Throughout his college days Alec began to realize that public service in an elected position was something he wanted to pursue. In his last year at MSU he ran an unsuccessful bid as a Democrat for State Representative in 2016. In his own words, "My run for State Representative in 2016 was the first political act I undertook outside of voting". Although he lost his primary bid, he firmly believes that the experience was truly exceptional. "I still reminisce about talking with voters when I ran in 2016, because of all the positive experiences with residents and being able to talk with complete strangers for extended periods of time. I learned so much about myself and the people throughout my community from taking the time to listen and speak to them".
Shattered:
After Alec's unsuccessful bid for State Representative, he was in no mood to sit back and do nothing as the most important election of his lifetime drew ever closer. In late August 2016, Alec was brought onto the Michigan Democratic Coordinated Campaign/Hillary for America as an Organizing Fellow. He quickly went to work in the campaign's Lansing field office.
Alec, now a staunch Democrat was worried about the intra-party strife that was occurring between Bernie and Hillary supporters after a shockingly close Presidential primary campaign. "I'll admit I was not the greatest fan of Secretary Clinton's past dealings with Wall Street and big-money donors. However, I realized that once the Presidential primary was over, it was time for Democrats of all stripes to unite and work together to prevent the dismantling of President Obama's progress. I was all in for Hillary knowing full well that 2016 was a must win for liberals".
At the Hillary for America fellowship training Alec joined hundreds of other like-minded Michiganders in being trained on how to prevent Michigan from going for Trump. "The thing that struck me most about that training event was the diversity in that room. There were kids as young as 16, college students, adults, parents, elders, people of color, LGBTQIA, poor, more well-to-do folks, they were all there! I was blown away by the fact that the campaign and the party's message truly encompassed every American and Michigander. I remember thinking how awe inspiring it was that Hillary's campaign truly represented all of America".
Alec, with the thousands of other campaign staff went right to work after their trainings, registering new voters, makings hundreds of thousands of phone calls, knocking on tens of thousands of doors, and turning out thousands of voters on election day.
November 8, 2016 at 9pm Alec returned to the Lansing field office to join a packed room. Volunteers and campaign staff had been filing in since the closing of the polls to watch the results live. As the night drew on, it became apparent that this election would not go the way many of Americans had thought it would. Dejected after staying up late enough to get a clear picture of the election, Alec went home.
People Movements:
Findlay spent the weeks after the Presidential election trying to understand what happened and how to respond to a shocking election result. He found his answer in movements like the Women's March and March for Science.
"I attended the Women's March on Lansing as a means to get reenergized for the work ahead. Like many other politically active folks, I realized that Americans would need to be vigilant and willing to fight for what they believe in". After the first mass rally against President Trump's agenda Alec looked for ways to get involved in combating the agenda of a President he thought was grossly out of touch with American values and principles. Alec then found the March for Science.
Beginning in early February Findlay got organized with the March for Science's Lansing event. He worked as a co-organizer with a group of young motivated activists to push the message that science was valuable and that peer reviewed scientific data cannot be ignored. Alec was recruited by the organizers to handle booking some speakers for the March as well the logistics of the event. Alec was responsible for reaching out and booking gubernatorial candidate Abdul El-Sayed among other speakers. Alec was also selected by the committee of organizers to speak at the march.
A couple weeks before the March for Science, Findlay attended a gerrymandering reform group's town hall in East Lansing. This was Alec's first encounter with Voters Not Politicians (VNP). "When I ran for office in 2016 one of my signature policy ideas was an independent commission that would handle redistricting and end partisan gerrymandering here in the state. The moment I heard the Voters Not Politicians presentation and their plan to implement a citizen-led redistricting commission to handle redistricting, I was sold". Alec joined VNP that day and got involved on the ground helping to build the VNP organization on the ground before their petitions were ready to circulate.
Alec describes the two movements he worked with as "Awe-inspiring is how I would describe the movement and the numerous volunteers that I worked with during my time with March for Science and Voters Not Politicians, all of them were willing to sacrifice so much time, money, and sweat to ensure positive change would continue".
On Earth Day Findlay led a team of volunteers to advance VNP's recruiting efforts at the March for Science where he was also tasked with speaking. The VNP team ended up collecting a total of 500 plus signatures in the span of two hours, a huge feat. Alec touched on the need for a new science activism in his speech to over 3,000 attendees. "When I was writing my speech, I knew that the attendees were firm believers in science and that they knew science was invaluable to our state and nation. What some of the attendees might not have known is the immense power that they have. Each and every one of them has a power to enact positive change, all they have to do is get involved and get organized! Every-day people getting organized and working for good causes was one way to advance a pro-science message to all Americans. That's what I wanted to get across, the need for science believers to get organized and get ready to work to ensure our country stayed on the right side of history regarding pressing environmental issues".
Findlay continued to work for VNP as a field captain and eventually a regional director where he worked with a thousand plus volunteers to recruit, spread the word, and prepare for the eventual circulation of petitions.
Disclaimer: March for Science and Voters Not Politicians are non-partisan volunteer groups and their mention in this biography does not constitute an endorsement or a partisan angle to their continued non-partisan work.
The Future:
Alec Findlay is ready to fight for good, common-sense, and imaginative policies that benefit every Michigander. Findlay intends to pursue his dream of servitude to Michigan and his neighbors by running for State Representative in the 67th District. Alec firmly believes that Michigan's glory days are not over and he wants to work towards progressing Michigan forward with common sense policies that will strengthen the middle class and improve our state's education, economy, environmental controls, and ultimately helping the people of the 67th District and Michigan to live out their American Dreams.